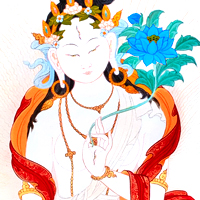 Date:
Sunday 9 May 2021 (10:00 -11:30)

Location:
EN LIGNE / online
Shine the light of compassion on the world
---
ZOOM (direct link)
or (ID: 898 7950 1468 / password 030604)
log in after 9:50
---
White Tara practice is one of the most powerful compassion practices in Tibetan Buddhism. It is especially useful in times of pandemics, and domestic or community turmoil. Tara is represented as a peaceful feminine deity who perceives the suffering of all beings and offers her assistance. This practice helps us to contact a warm space inside ourselves and others, to calm fears and anguish and even to heal suffering.
During this short practice, to stimulate our innate qualities of compassion, we become White Tara, recite her mantra and visualize a white light.
For whom do we practice?
For people you wish to help, including yourself. If you can't be present at the practice, send us the names of the persons for whom you would like us to practice. These persons may be going through difficult times, related to COVID-19 or any other situation. Names will not be made public.
Suggested contribution: $10.
To pay : Offer a donation