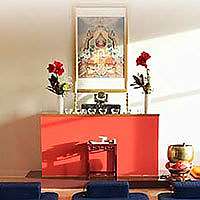 Date:
Tuesday 21 January 2020 (10:00 -12:00)

Location:
Centre de méditation Shambhala de Montréal
Teacher :
Francesca Dalio
Miam Miam because it's good to meditate. Good posture, breathing, being fully present. Open to all.
New session: January 14 to March 17 (10am-Noon)
Let's take a moment to connect with ourselves, relax and enjoy the practice of meditation.
It is open to newcomers as well as to more experienced practitionners and for those who like to practice in a group setting to support their meditation.

Schedule:
10am-10:30am–Guided meditation to settle mind and body
10:30am-11:30am–Silent meditation
11:30-12pm–Questions and discussion on different themes.

It's better to be there for the whole session; but if you arrive late, please ring and we will open the door.
Voluntary contribution according to your generosity and your financial situation.
Let's meditate together.
Francesca Dalio