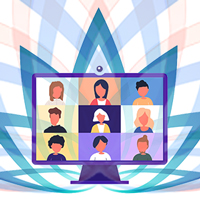 Date:
Tuesday 13 April 2021 (19:00 -20:30)

Location:
EN LIGNE / online
Join a virtual meditation space of support and camaraderie
ZOOM (direct link)
or (ID: 815 7181 9165 / password: 043915)
log in after 18:50
---
The session begins with meditation instruction and is followed by a practice. After a brief period of stretching, a short talk or contemplation is offered by the teacher, followed by a discussion.
Open to all. No meditation experience required.
Suggested contribution: $10.
To pay : Offer a donation.