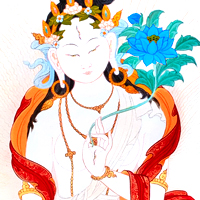 Date:
Saturday 20 March 2021 (10:00 -13:00)
Saturday 27 March 2021 (10:00 -13:00)
Saturday 10 April 2021 (10:00 -13:00)
Saturday 17 April 2021 (10:00 -13:00)
Saturday 24 April 2021 (10:00 -13:00)

Location:
EN LIGNE / online
Teachers :
Acharya Judith Simmer-Brown & Gisèle Laberge
Contact person : Nicole Boudreau
PRIX RÉGULIER / Regular Price

:
$
155
Développez vos qualités innées de compassion Develop your innate qualities of compassion
Pour le texte en français cliquez ici.
Course with transmission taught by Acharya Judith Simmer-Brown by video, with workshop in French led by Gisèle Laberge.
Prerequisite: being a member of a Shambhala Center
White Tara is one of the most famous compassion deities in Tibetan Buddhism. Sadhana is a Sanskrit word for "means of accomplishment". In this case, practicing White Tara sadhana stimulates the development of our innate qualities of peace and compassion. Tara is particularly called upon during times of great turbulence, domestic and community conflicts.
The practice includes meditation, visualization, mantra recitation, and creation and completion practices. The Aspiration and Supplication to Tara, written by Chögyam Trungpa before his departure from Tibet, is added to the sadhana composed by Sakyong Mipham in 2004.
A course with transmission (lung in Tibetan) requires participation in every class. For a special situation and with the teacher's approval, a recording can be made available.
Note: Once the course is completed, only a person who has taken refuge can obtain the text of the sadhana and practice individually. However, this text is always offered during group practices which take place several times a month.
Classes are taught from 10:00 to 13:00 Montreal time.Registration deadline: March 17.
To register, click here. The price for the program is CAD 155 including the French text of the talks. To take the class for a second time, the price is CAD 75.